Commission/Adoptable Info
OC Database (on charahub) : N/A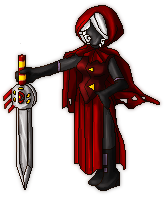 People who are totally awesome (in no order):

















FAQ

- Real name?
- I don't really give out my name on the interwebz, but feel free to call me Parahin, Aura, or TNE. 8'D

- Tools?
- Vistablet Realm and Paint Tool Sai. Sometimes hot chocolate.

- How long have you been on DeviantART?
- Around three years. I had an old account, but since someone had the exact same name as mine, which was confusing people trying to look for me, I had to switch.

- Wanna be friends?
- Sure, but please know that real friendship takes time. Maybe start a conversation with me? I love to talk.

- May I use your OCs for something?
- I'm sorry, but I don't let anyone use my OCs for anything. And believe me, I will be furious if I find out someone has been doing so. It's just one of the things I don't tolerate.

- May I draw giftart?
- I'm probably one of those weird artists that ask if you can beforehand, so I prefer if you did so.

- Will you donate?
- Asking will get you a warning, a second time will get you blocked. I don't donate unless I feel the need to. Honestly, it's quite annoying when someone you don't even know wants something from you for free.